Man this month has cruised on by.  It's insane when you've got your head down and cranking.  However, I made sure I got home early tonight so I could get some pics of the seedlings if nothing else.  I hope to find some time to get some potato bins built this weekend, but somehow I doubt it.  I should also plant my cole crops and some radishes and peas.  Oh, and I need to harden off the seedlings too.  Everything should have already happened by now, but it hasn't.  Of course the weather hasn't cooperated much either.  This afternoon was about the only sun break we've had in two weeks.  Come on warm spring (like Dorothy said).
I'd like to call this post, the "Case of the Neglected Seedlings" ... dum dum dummmmmmm...
When I went upstairs, armed with nothing but a water bottle, what did I find?  Tomato seedlings no longer 2 inches from the lights, but growing up into them, smashed up against the bulbs.  Grrrr. I hate it when I neglect them.  Oh, and the soil blocks were light brown, bad sign.  So the first thing I did was to raise the lights over the tomato seedlings.  Unfortunately this creates a major slant such that some of my soil blocks have 8 inches to get to the lights.  Can't be helped without major manuvering.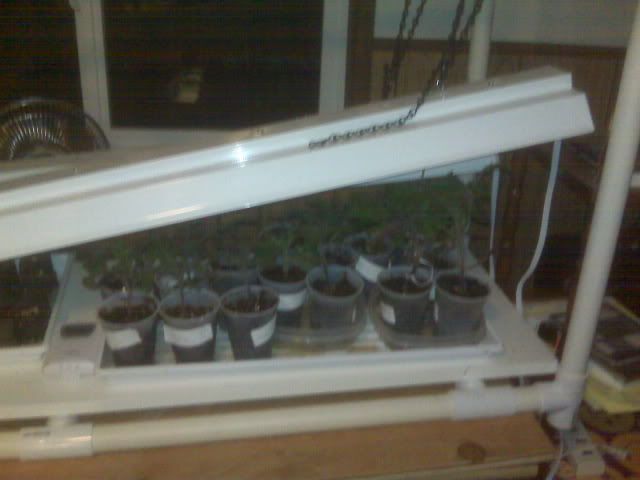 Then I watered like mad.  I even went downstairst to refill my bottle.  The plants needed it, but I must say they're growing fabulously without my help.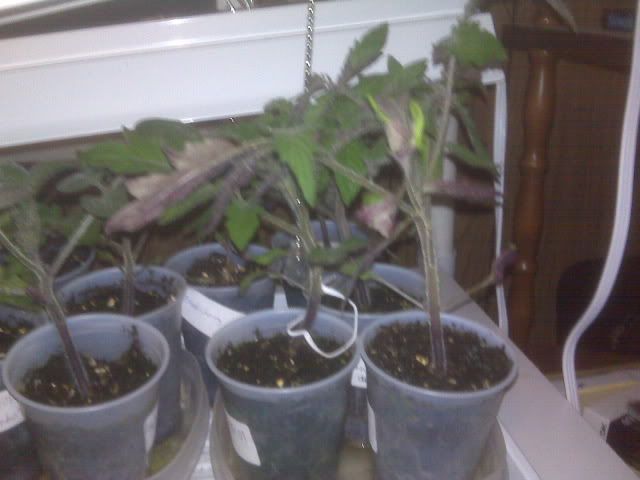 You think these need to be potted up? hehe.  Sorry for the blurry pics, it was dark when I took the pics. I think that's the reason. Then again, maybe the lense is dirty.
Lastly, take a look at the soil blocks in back.  I think these are either lettuce or stevia, though it's probably lettuce.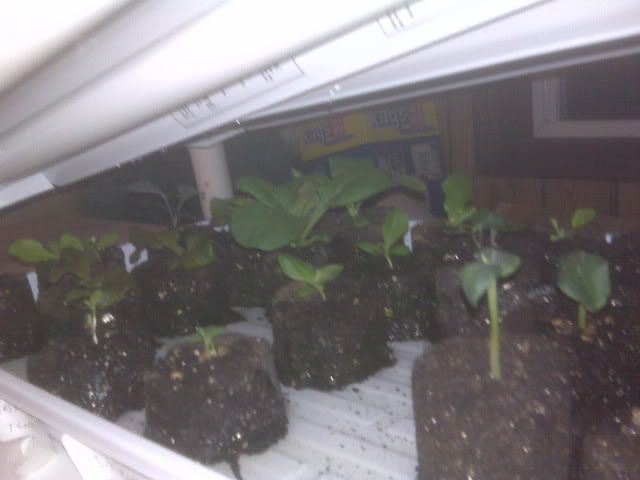 Look at those broad leaves.  Insane!
I think when I harden off the soil blocks, I'll just take the entire tray outside.  Everything in there is probably past time to be planted out, well except for the cukes, but they should be hardy enough to withstand some warm days. It's just too cold to germinate them.  And they wouldn't be spending the night outside.  If I'm home for a few hours this weekend during the day, and it's not raining cats and dogs, I'll put these out.
I sure hope you all are having more fun with your gardens than I am.  Though just some seedling time was a bit of relief from the stress.  It's working just how it's supposed to!
Enjoy your garden (vicariously for me)!