Beware the Ides of March... For Caesar, it was a lot worse than for me, but look what happened shortly after I woke up this morning...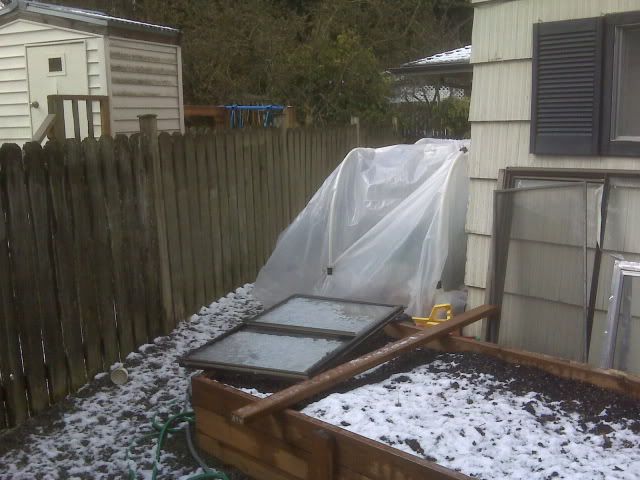 We actually got an inch from the largest flakes I've seen in ages.  However, it turned to rain before I went out to help my folks and most of it had melted.  Thank goodness I left the window on.
The weather was icky, so nothing got done this weekend.  No peas got planted, no hardening off, no potato bins got rebuilt.  One thing's for sure, our last frost date this year is NOT March 15, hehe.
Anyway, I promised that the next time I saw my brother I would snap some shots of his light system.  So while we were waiting for my wife's birthday dinner to be ready, we snuck over to his house and snapped some pics.
This shot was taken after I had him raise the light to accomodate rapid growth of his broccoli seedlings and his watermelon.  Both look exactly the same at this point and were being crowded by the lights.  Both lights got raised in the end.  Nothing else has germinated yet, which is fine since nothing's ready to go out.
And here's a close-up.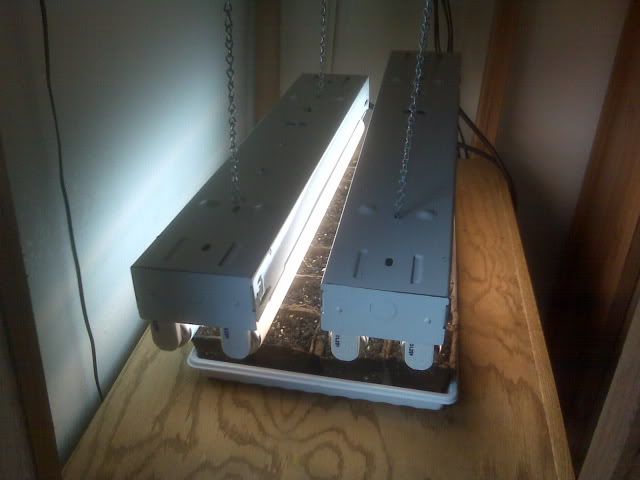 I love how my seedling trays fit 32 of these Jiffy peat pots perfectly (which he filled with my Mel's Mix, hehe). I'm sure that's the point, but it was very cool to see.  Oh, and don't you just love the oak shelves for the shelving unit?  Only the best scraps in my father's garage, hehe.
Well, I hope you'll join me as the weather slowly turns and I get more and more active in the garden.
Have a great week and I hope you enjoyed your weekend!