Well, I didn't get out today.  I had hoped to play some tennis with my niece, but it appears that she is practicing almost every day.  If that's true, and she gets some decent coaching, she doesn't really need my help.  Shucks, I was kinda looking forward to getting some hitting in regularly.  My only trip out in years actually was really good.  Not quite like riding a bike, but close.
So instead, I played with the kids and worked on another round of seedlings.  After thinking about what DoubleD said yesterday, I realized that I can grow enough for two families in my 150 SF.  You see, I didn't actually plant every square foot last year.  I kept several for succession plantings that I didn't need.  In addition, I have 44 more SF of space in my big bed #4 that was corn last year.  So I'm going to give it a go.  Frankly unless one family gets it (they're vegetarians), I really don't expect them to harvest nearly enough for us to sacrifice.  However, I will look into the terms of CSAs that charge $600 before I set a suggested value (I'm thinking priceless myself, hehe).
Anyway, I mentioned that I worked on planting more seeds.  I couldn't do it before it started snowing (yes, snowing!), so I went out in my slippers to get Mel's Mix from the bag.  This was early on.
And that just happens to be the extra 44 SF.  I can't wait to plant it.  Hmm, I think I have to enlist my wife to string a grid out of jute twine here, and restring the other beds.  The downside and upside of jute twine is that it decomposes fast, hehe.
Well, I had a ton of seeds I wanted to plant, so I made up a ton of soil blocks.  Then I proceeded to plant new lettuce, broccoli and replant cauliflower.  I want to plant two SF of each lettuce variety instead of just one now that I have two families to feed.  Unfortunately I ran out of space in my seedling trays with all the cukes in there already germinating.  I did replant the three tomatoes that didn't germinate, hope they will catch up soon.
Note that I used John's idea of filling the divots with vermiculite rather than dirt.  Much easier to keep moist and sprout through (sorry its blurry, not sure what happened).  Anyway, here's a better shot on top of the ice tea maker in the kitchen (the only spot that fits the huge seed trays).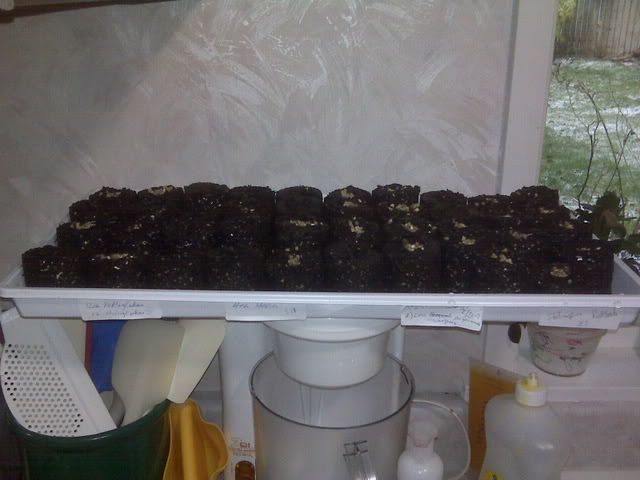 Lastly, I made too many soil blocks.  Actually I should have planted more salad bowl lettuce (only one sprouted, so I filled it's spot here with another one). I won't have enough to fill two SF at this rate.  Maybe I'll direct seed some.  Anyway, I had extra soil blocks.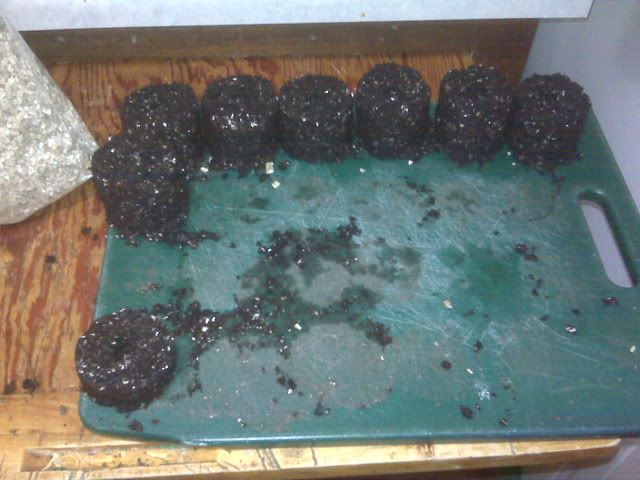 So I took Granny's idea and froze the extas.  Then I'll keep them in the freezer for a few weeks until I need more soil blocks.  Once they're thawed, they should plant up nicely.  Good idea!
I didn't get out to water the spinach (if it's sprouted) yet, or check to see if any of my overwintered lettuce seedlings have grown.  Hopefully the snow will go away by tomorrow and I'll have a moment to check on the garden.  Busy times.
Enjoy your garden!