WHOOOOOT!!!
Tonight was the first of many nights to come!  We ate our first veggie from our garden.  We got teriyaki tonight and their lettuce as salad just cried out for more.  So my wife convinced me to go out and grab two radishes from our garden.  I picked the two biggest I could see from their crowns breaking the surface.  They were much smaller than I thought they'd be, but my wife commented on how wonderful and peppery they tasted.  Unfortunately they got overpowered by the rest of the salad, but if we leave the rest in the ground longer they'll get stronger.
I just had to share. It's a red letter day for my garden!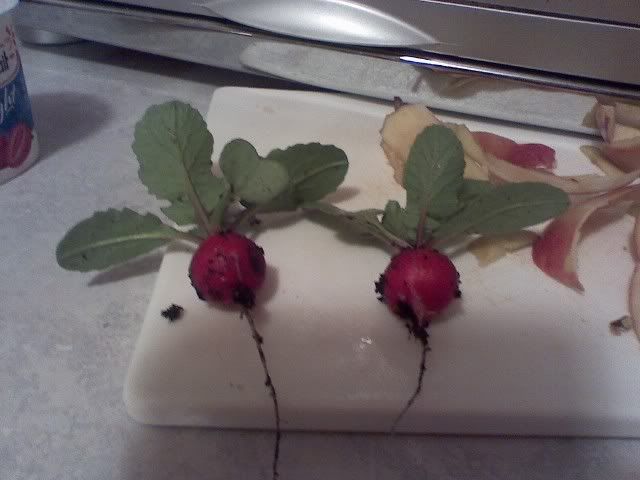 Sorry for the mess, my sons just shared an apple and I laid them down on the same cutting board.  Look at them though! They're the size of a large marble!  I expected bigger after seeing the size of the chemically enhanced ones at the store.  The good news is that my wife commented that I should compare them to organically grown produce since that's what these are.  Sometimes my wife amazes me.  What am I saying? She amazes me all the time.