Grrr. The Weather Underground site said 50% chance of rain today... all day. What it didn't mean is that 50% of the day was to be rain.  So no mowing today.  But nor rain nor sleet nor dark of cloud of day will keep me from planting my tomatoes!
Seriously, LOOK at this flower on my Momomato plant. It's the smaller of the two and it beat "Early Girl" to the punch!  Ain't it cute...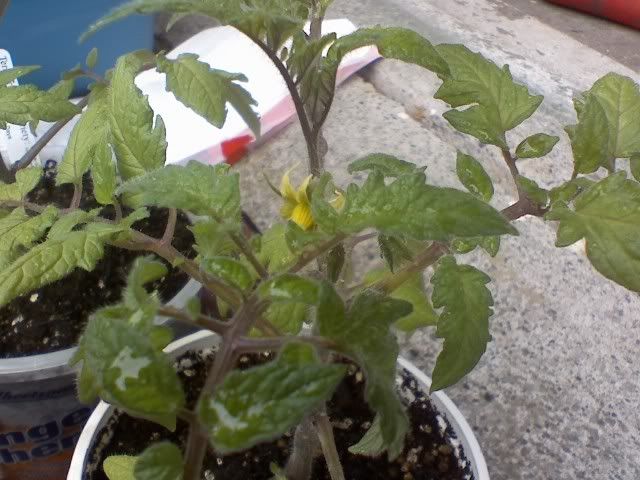 They got a little rained on since they spent the night outside, but they'd better get used to it because I hate to break it to you, but it rains here. hehe
So I posted late last night that I built my SWC. This morning it was time to put it into action. First I assembled the stuff I'd need to plant. Here I have my SWC, the plants, a left over bag of Mel's Mix, my plastic mulch, and tomato fertilizer.
Here's one last pic of my SWC before I plant.  It looks better in natural light than it did last night next to my son's airplane. hehe
Of course looking up things to recycle this morning my wife found a link to how BAD for the environment PVC is, right after I put a 1" pipe into my tomato bin.  Grrr. hehe.
After putting about 50 pounds of Mel's Mix into the bin to fill it to near the rim. I dug out holes and transplanted the tomatoes.  I didn't clip the roots or anything because the dirt was so friable that the potted mix started to crumble once it was out of the pot.  It was all I could do to drop it into the hole I made.  Here's a great pic of my transplanted tomato plants...
Then I dug my trench down the middle and sprinkled in a bit of tomato and veggie fertilizer granules. I didn't put any Epson Salt in with it since the closest thing I have to it is Kosher salt, hehe.  Somehow I doubt they're the same thing.  Let's hope they can live without it.
The last piece of the puzzle is to put a rain coat on them.  Appropriate for the weather we're having right now, I put a white kitchen garbage bag over it, marked where the plants and piper were and cut X's to slip over the tall stuff.  I chose white because I didn't think I needed black. Besides, it's what I had on hand and fit perfectly.  See...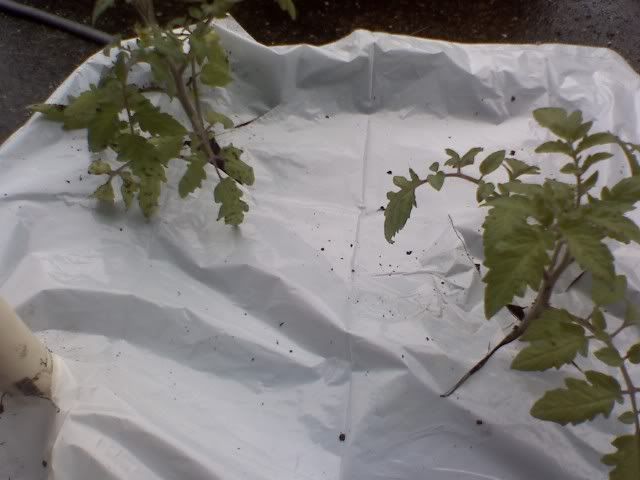 Then I moved it to it's final resting spot. Of course I COULD move it because it's portable. But considering it had about 50 pounds of dirt in it without water, I don't think I'd want to move it around all the time.  Especially since it took several gallons of water to fill the reservoir until the overflow started dribbling.  I was beginning to wonder if the water would just fill up the bin through the holes and not utilize the overflow kitchen straw. I'd hate to waterlog the tomatoes, they don't like that (what does?). Eventually it did work and I could stop filling. I seriously doubt I will need to fill that more than once a month.
So it's done, I've finally planted my tomatoes. It's neither too early or too late to plant them, so I'm fine. But I do need to get to working on that trellis if these are going to start growing tomatoes soon.  Actually I still need to put mulch on the top, but the stuff I've got isn't very attractive and looks more like compost than mulch. So I'll probably use it to cover the compost around my fruit trees and get something closer to beauty bark for the top of the SWC.  Anyway, here is a pic of it in it's new home right next to my hoop cover between bed #1 and #2...
Lastly, here is a picture of the whole area on a wet, wet spring day in the Pacific Northwest. 
If April showers bring May flowers, what do May showers bring?
Enjoy your garden!