Wow, and I thought I had nothing to post about tonight.  Work was hellish. I've been hitting a wall about 2 or 3 in the afternoon (8 hours into my long day), probably because I've never been a morning person, but to spend time with my family, I'll do anything, including getting up at 5 to start my 10 hour day.  Ok, enough about my day.
I've been checking the weather forecast a lot lately because we've been having a cold snap.  Mother Nature telling us that Spring doesn't mean spring quite yet.  I was just sitting down to check the boards and my brother calls. It's SNOWING a mile from my house.  Now I haven't checked outside since he called, but I don't think it's snowing here... yet.  According to the news, for a change, the snow is falling south of Seattle, not north.  Odd.  The southend of Puget Sound got 2-3 inches of snow!  Yikes.  Thank goodness since my wife's still out.
Thank goodness Judy and others have said my cool weather crops can handle mild freezes, and since it's getting to almost 50 during the day, any snow accumulation (at most an inch) will be gone by noon, providing more water for my beds that are getting quite a bit lately.  I stopped watering when I found the dry top inch or so was a brief respite from the spring rains.  I think the beds may be getting a bit too much water. One cauliflower seedling is yellowing a bit but I can always replant if necessary. 
In fact, I may start some seedlings indoors and plant them immediately when they get some leaves.  That way I won't care if they would have gotten leggy, they'll be transplanted.  My seeds aren't germinating well in the beds and cauliflower germinates in about 5 days inside on the fridge.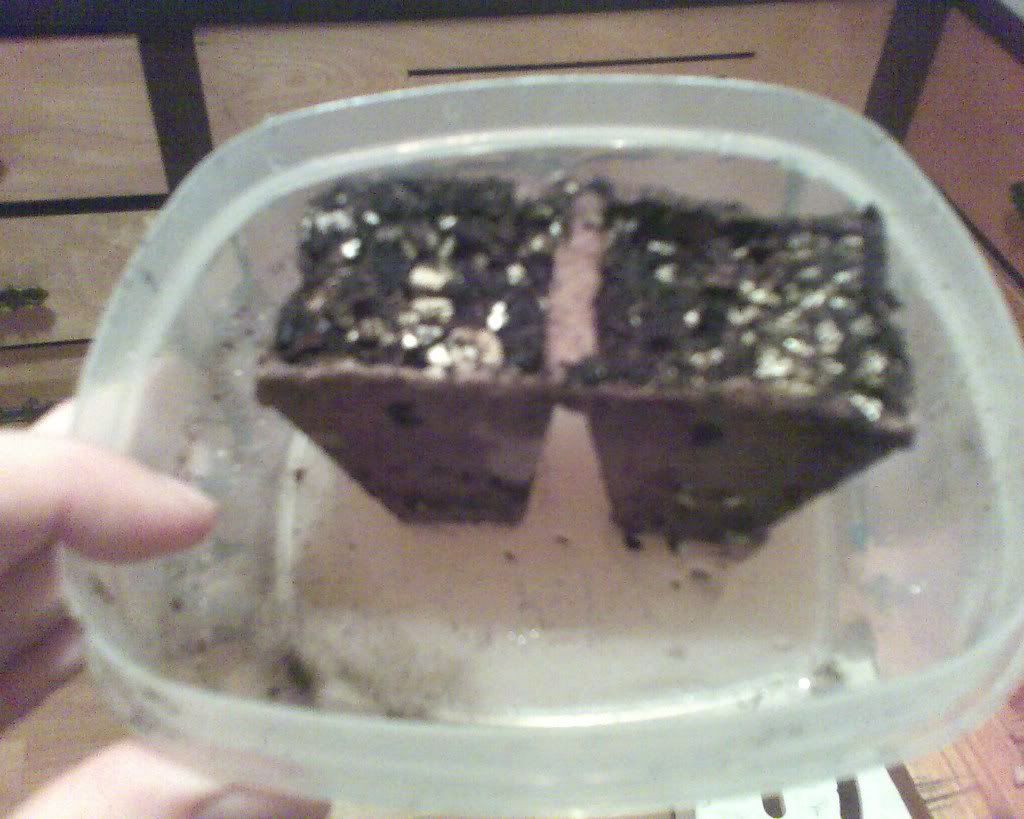 After I read that 4 broccoli plants was enough for 3 adults for a season (on GardenWeb), I began to rethink growing 8 of each plant for little old me (I can't guaranty my kids will like either since I didn't as a child).  I'm kinda trying to find more space for lettuce since I miscalculated the square footage in my tomato bed. 
Anyway, I figure if I have maybe one viable seedling of each out there, and two seeds that may or may not start, I'll grow one of each inside and transplant it outside every two weeks.  If I have too much, maybe I can try Alton Brown's method of quick freezing some of it for the winter.  If it works for blueberries, why wouldn't it work for broccoli.  Birdseye does it.
So as you can see above (sorry for the blurry pics, my wife's out on a girl's night out with her nice camera phone), I planted two peat pots. Full this time, with Mel's Mix with Miracle Gro potting soil mixed in with the compost, I didn't like the look of the peat pots sticking out of the bed with my spinach... (sure hope the peat pot tops break down soon)
I digress, hehe, so I planted one peat pot (I'm still chicken to try out the peat pucks I bought to mimic Judy) with a seed of each and marked it so I don't plant them in the wrong place.  It actually took two attempts because I spilled a bunch of dirt out by accident when I was watering the seeds in and couldn't be sure if the seed was lost too, so I dumped the dirt and started from scratch. 
That's enough for tonight, and thanks Jen for stopping by and posting... You really are my muse, in more ways than one. You've got an amazing voice and incredible yard!