Boy, lots to say tonight, and I worked all day.  Go figure.
Let's start with
SPROUTS
!!! I see sprouts!  In a day I got sprouts from my spinach seeds, peas and maybe lettuce.  I only got a quick glance when I got home because we were late for heading out on a power walk.  As it was we had to cut it short for lack of light and falling temps.
Yes, I now have peas sprouting, but only a few snow or shelling, I honestly can't remember which I planted in that SF.  I just know the snap are in the middle. I also know that I need to build a trellis this weekend. 
All three of the pea varieties say they max out at 30 inches, so I'm toying with just building a 2x2 trellis about 30 inches above my bed.  Anyone think I should go higher?  Since they're untreated pine, they won't survive to next season so I don't worry about permanence.
Back on the seedlings, we had frost today, and are expecting frost all this week, so I wonder if I NEED to cover my new cool-weather seedlings for a light frost? 
I sure won't be using the coldframe pictured below.  It cracked on me Sunday so it's out of commission, permanently.  My next best option for my windows is one that will take my wife and I to move... it's 4x8.  I may have to start looking on Craigslist for a 4x4 window from a remodel.  It was a good size since I could manhandle it myself.  That said, if I have to remove those staples for my grids ever, I'll put the next ones in the sides so the frames slide along the bed frame.  Live and learn.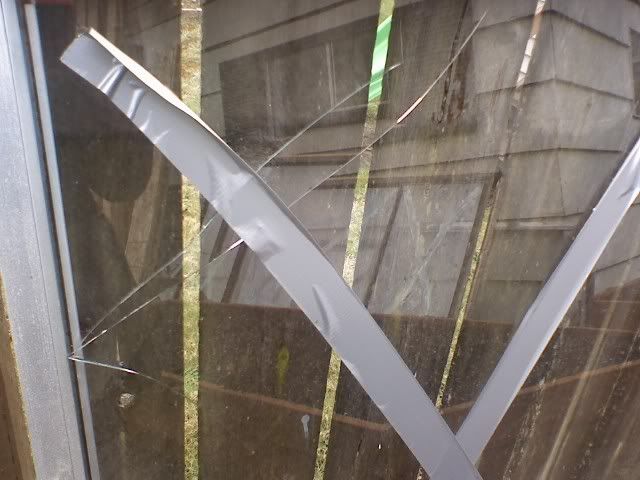 My weekend is filling up with projects.  Not only will I be doing some succession planting and building a trellis for my peas, but I may be planting potatoes early.  Apparently they can be planted before the LSF but frost will damage any above-ground growth.  To solve that, I may do up a clear cover for the bins.  I could either do a simple cover that goes a few inches above the tallest level, or something more complex where I create a square clear plastic bag that fits over the 2x2s.  Create a little hot-house.  I bet my mother could do one for me. She made something similar out of tarp for everyone's plastic stackable deck chairs so they stay clean during the winter.
Another project is getting water to that area.  I'm sure my front yard looks trashy with a hose wrapped around the entire house.  The front hose is much longer than the backyard hose so it actually reaches the side/backyard better.  Unfortunately it's haphazardly laying in my front yard because it's not quick to uncoil and drag it around the house.  Boy will it be nice when I get a hose in the garden.  Since it's PVC, if I decide I want to create a PVC-based irrigation/drip system, I could do it off of that spot.
Finally I still need to get the predator urine to detract the raccoons.  I left the one paw print in my tomato section to remind me that they're bad for the garden. Don't they know NOBODY walks on Mel's Mix once it's down?!? hehe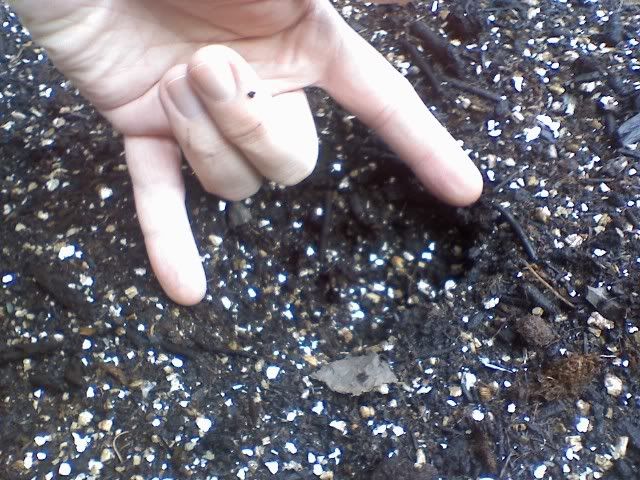 Well, that's about it for tonight.  Thanks Tim, GardenGirl and Toasty for all the great comments lately. I really appreciate the advice.