Well, today was productive, despite losing an hour.  I slept in (even if you don't consider the time change), I made a smoothie, checked the boards (busy time) and made lunch.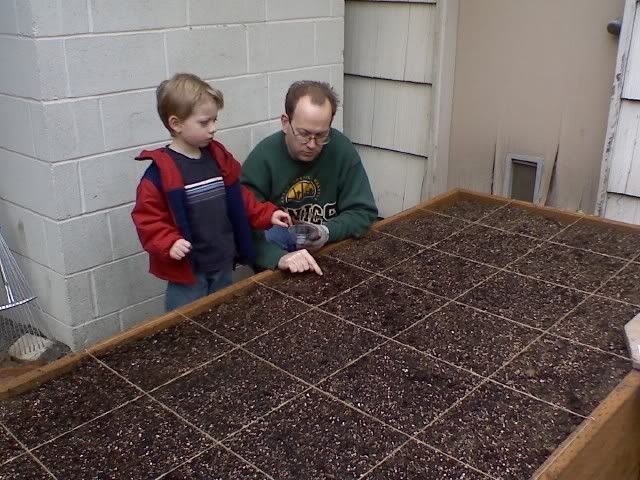 After lunch, my 4 year old and I went out and started planting in the garden.  I planted 2 SF of carrots; 4 of cauliflower including 2 seedlings that I felt had a decent chance of surviving; 3 SF of lettuce (one of each variety); 1 SF of spinach; 4 SF of peas (three varieties); 4 SF of broccoli including the only sprout that looked decent; 2 SF of onions; and 1.5 SF of radishes.  I'll plant more in 2 weeks or so to succession plant, but this was a great start! 
Unfortunately I spaced the spinach wrong.  I was in a hurry and distracted by my kids when I drew out on my garden plan how many to plant.  For some reason I did 16/SF for spinach, so I planted 8 of my sprouts on top and 8 seeds on the bottom.  Now I don't know what to do since the correct spacing is 9/SF.  Grrr!  Thank goodness for daylight savings so if I get home at a decent hour tomorrow I can go out and move around the peat pots.  I won't move the seeds so I hope the whole SF isn't a total loss.
Not so say the verdict is in, but I actually transplanted three of my original seedlings.  Two cauliflower and one broccoli.  All the rest (over a dozen) were totally toast.  Look at how cute they look!
Finally, after reading that carrots need a plastic cage over them, I rememberd reading a thread about carrots where 'old-timers' used to use planks over their carrot seeds to speed germination.  Sooo, I grabbed one of my 1 foot strips of plywood and threw it over top of the carrot row.  I didn't do the same for the peas, but I may since the book wants a cover over them too.
When my folks get back from Wyoming, I'm going to have to enlist his help to get water to there. Right now I've got my front hose wrapped around the garage to the garden area, and even with an extra long hose it doesn't quite make it.  It does better than the back yard hose, but still not great.  I'm still toying with the idea of putting three 55 gallon rain barrels in the area where my tool shed was going to go (in the picture above it's where the screens, rake and fertilizer bag are located).  Using the SFG method, I really don't need that many tools and my shed's only 40 feet away. Something to think about.
Lastly, when I was playing with the kids in the yard after gardening, I found paw prints in the compost around my apple tree.  Time to check out the coyote urine solution.  Best to get them away early in the season before the plants grow.