Oh the weather outside is frightful, let it snow, let it snow, let it snow... GRRRR
Odd though, it was beautiful out today (though a bit cold).  My father and I set up the temporary hose in lieu of the PVC pipe to bring water to my garden.  Unfortunately we got a cheap hose and it sucks.  It won't roll up onto a hose rack, so it's just laying in the gravel now.  It makes me want to do the deck now to get the runner board on the house so we can attach the PVC to it.  Come on good weather!
I forgot to mention that my hoop cover came through the snow storm in pretty decent shape.  The pipes sagged a bit toward the fence because there's no support for north/south for the structural pipes.  But it is holding well enough. I just can't fix it without taking it all apart.  I may do that if tomorrow's as good as today was, but the day got away from me today. 
I've also got to figure out a good and simple way to create a good seal between the plastic and the bed frame.  I don't need air-tight, but close would be nice.  Suggestions (with pictures or links to pictures) would be MUCH appreciated.
With all the precipitation we've gotten over the last two days, it's funny to say this, but I needed to water my seedlings today.  Being under a coldframe or hoop house means no water gets to them.  So I lifted the windows and opened the tarp to spray the beds down with a fine mist. 
While I was under there, I got to see how the seedlings liked the warmer climate under cover.  Many more sprouts were up and the seedlings looked to be thriving, so they must like it.  Even the broccoli and cauliflower seeds I direct sowed have sprouted finally. I was worried that they wouldn't and I'd have to use the seedling I started inside yesterday.
One problem came up though.  I confess that I haven't been great at labeling my seedlings indoors, and I've got a forgetful mind.  Today I came to the realization that I may have planted onion seedlings with my spinach seeds in my spinach beds.  The seeds that have sprouted look nothing like the seedlings I transplanted.  Oops.  I'm not moving them now, the seedlings have got a firm root hold by now and unless they don't play well togther, they're staying.  I'll just plant more spinach elsewhere.  Lesson learned.  Label well.  On a related note, I've got to get some stakes to write what is what where.  I'm just lazy I guess.
The last thing I did for my garden today was to sprinkle the predator urine stuff around the perimeter of my yard.  I focused on the areas where I know they go. Like where the path they've worn into my grass is, I sprinkled on both sides of the fence they climb, at both ends of my yard. I also did around my potato bins since I've seen prints in the dirt. Finally I did in my garden area because that's where I found this huge print...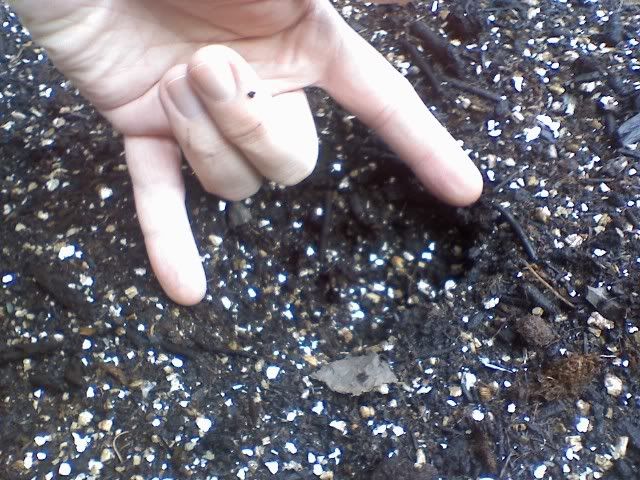 Let's hope it works. I smoothed over the prints in the dirt, so if I see prints again, I know it's failed to deter them.  And if I can't figure something out and Judy comes up blank (the squash solution doesn't work because I'm NOT growing squash, hehe), then it's razor wire (just kidding).
Well that's about it. I hope you participated in Earth Hour today.  We powered down our computers and turned off all the lights and went for a walk in the snow, came back and put the kids to bed.  The hour went quick. It was disappointing to see so few houses with the lights off.  Needs better advertising I guess.  Hope you have had better weather than we have, and got out in your garden this weekend!