True to my word, I didn't post yesterday.  I'll summarize the Friday's events to give perspective for today.  I went to work early to go home early to help with the auction.  Early means leaving for work before 6.  Then around noon my wife calls to say that her mother fell at work and broke her foot, messed up her back and hurt her knee.  So she's heading out to go take her dad to go get her mom (she can't drive with a cast on her right foot).  So I end up leaving really early to help watch the boys.  I end up helping prepare for the auction, scrambling to put everything together at the last minute.  The auction went very well, we doubled our initial Kentucky Windage guess for money for the school and we got the garden basket for the kids (paid nearly retail for it, as opposed to the adult garden basket that went for $5 over the cost of the gift certificate in it!).  Late night.
We started early today.  I mowed the back yard and checked the garden.  Everything looked great, including my tomatoes that I left out overnight because the forecast was for 70 today and it was 60 when I went to bed.  Good weather to harden off the plants for transplanting this weekend (if I can get the SWC from Toasty that is). 
We ended up starting to cut down the tree and bush (in the top pic with the white flowers)at around 11 and it took until 5 before we wrapped up.  We filled the truck with branches and stuff, but bucked up the big stuff to use or give away (my 80 year old neighbor wanted it and he "helped" so it was cool).  Boy was it hard work because my dad's not physically healthy and my aunt's not particularly strong, so I ended up doing most of the heavy lifting.  I ended up burning 1,500 calories!  Boy was it hard work, but we did take several breaks. I didn't get around to mowing the front yard, shame on me.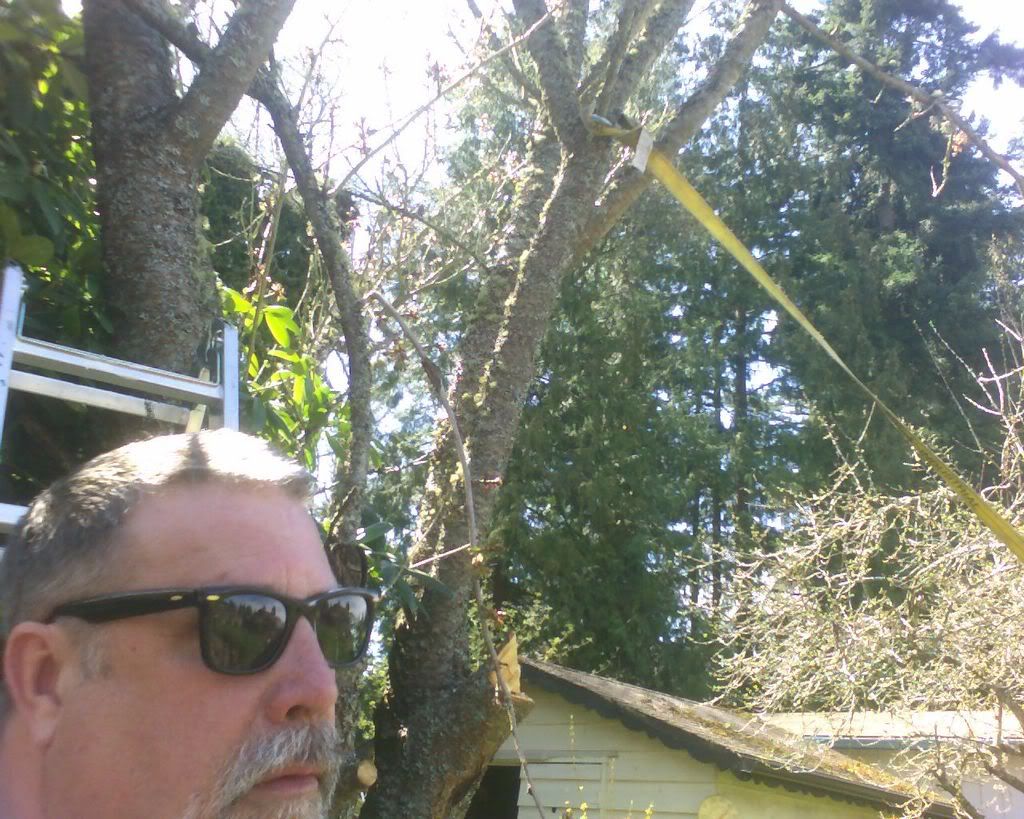 I guess it's a good time to mention that the temperature actually hit 80 degrees!!!!!!!!! EEK! That's August weather for here.  And I was out in the yard the whole time.  The plants loved though!  I swear that the spinach, lettuce and radishes ALL started to grow their second set of real leaves TODAY!  And the peas are really growing after that heat.  Oh, did I mention that I watered three times today?
The last time I watered was when my eldest and I went out and gardened after they got home from a day away from the dangerous trees and saws.  He helped me plant another SF of beans, 3 SF of cukes, and 1 SF of broccoli.  Finally, we actually planted corn today!  We planted all 16 peat pucks whether or not they'd sprouted.  About half of the ones that didn't sprout had mold growing on the pucks. GRRRR.   Anyway, in addition we direct sowed another 16 seeds to succession plant my corn.  I almost got a full row of corn at 3 inch spacing.  That spacing is awfully tight when using peat pucks.   It looks great though!  Too bad my wife's camera phone ran out of battery life after one shot.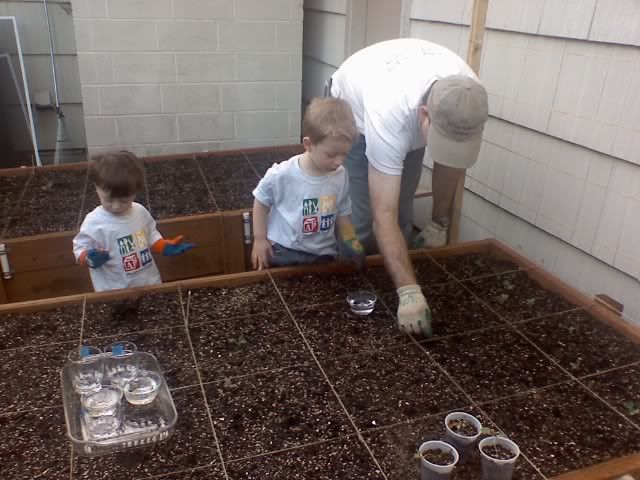 After mowing the back yard, taking down the trees and gardening with the kids, we went for our walk. Exhausted, we tackled finishing up taxes for this year (Tuesday's the deadline if you're procrastinating like me).  Our taxes were done except for my wife's paper route and another small business she has.  I hate schedule C's.  Anyway, it's midnight and I can't think straight, so I'm going to bed.  Tomorrow is clean-up.