Well, showers were forecast for today, and when I saw Noah collecting animals, I knew the weather forecasters need a second job.  I sure hope my seedlings aren't drowned.  Even this Seattlelite isn't interested in going out there and checking in this weather.  Maybe I should have kept the plastic and coldframes up an extra day.  Oh well.
Today's post will be very short because my eyes are watering and burning something fierce.  It's either looking at a screen for 17 hours a day every day, or it's allergies.  Not sure.  Anyway, I didn't do much for my garden today.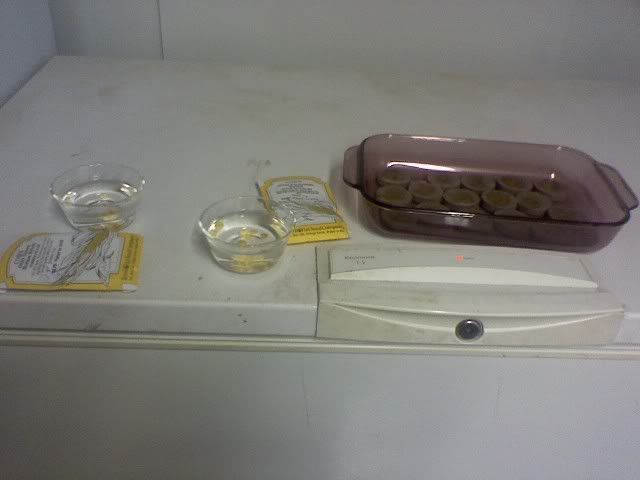 What I did do, is to plant the corn seeds that I soaked for about 20 hours.  They were still hard when we took them out, but they were much plumper.  I am never sure how long to presoak seeds. Mel is amazingly silent on the issue and the advice I've gotten is mixed. 
Anyway, my 4 year old was excited to help plant the corn (his favorite veggie).  And he liked watching the peat pucks grow.  Cute suckers.  It was a fun 15 minutes with my son.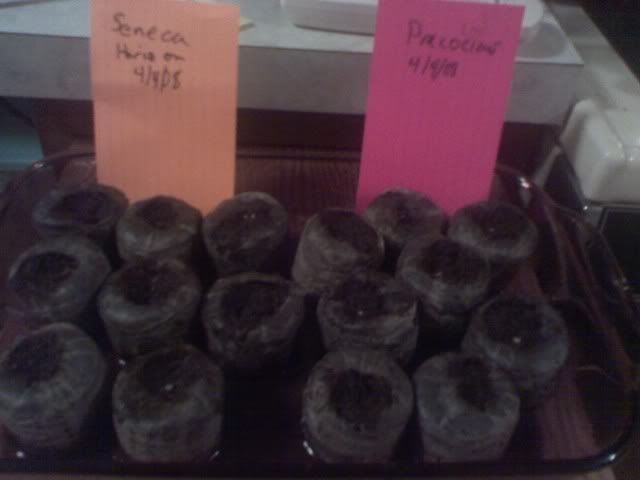 Note that after my spinach/onion fiasco, I took pains to label my seeds so I know which is which. But it was hard. More than once I absentmindedly tried to mess up the seed order.  I'll get better I swear.
So now these peat pucks are sitting on top of the fridge germinating.  I can't wait to be able to plant these.  Note that I only planted 16 total seeds.  If I plant these too early and they fail, I'm not out much.  However, if they work, I'll do 30 each next time (in about 3 weeks, or 2 weeks after I plant these).  I figure doing 50 or 60 at a time will help me get to my 200 stalks fast enough to not miss the season. 
And if my corn fails completely?  No problem, I'm out $5 in seeds and the use of 44 SF this season.  Next season I'll be able to plant much more of what works, and maybe even try out something new, like pumpkins, cantalope or watermelons. Who knows.