Extra, Extra, Read all about it!  The Tomatoes have landed!
I was in the middle of a major dilema about whether to use Judy's SWCs for my tomatoes to free up space in my beds, or to use my beds as originally planned.  I had just re-read Mel's book that suggested spacing of
1 bush plant per 9 SF
!!! How on earth are indeterminate bush tomatoes going to fit in a 2 SF SWC?  I would trellis and cage them either way.
My choices seem to be to use the SWC, or to put them in my bed. If I put them in my bed, do I plant them in the corner of 8 SF or 12 SF (4x2 or 4x3)? 
I would like to use as little space as possible to free up bed space for more veggies, especially pole beans which I just found out can't go with my corn as they suck nitrogen from the soil or some odd thing.
What would you do? I welcome your comments.
By the way, here they are right out of the box from Territorial...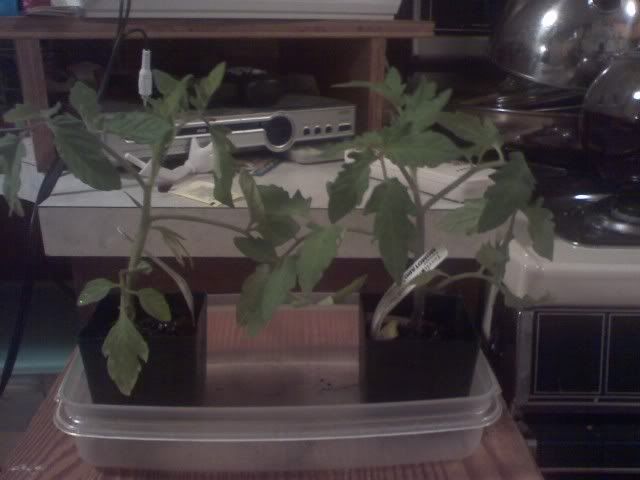 Ok, just had to throw this in somewhere... I was entering the Farmer's Almanac sweepstakes (again) and saw a long-range weather forecast tool.  So I checked out zone 6 (WA, OR and ID).  Here's what it said:
April 20081st-3rd
Mostly fair.  
4th-7th
Pleasant, then showery.  
8th-11th
Sunshine initially, then quickly turning stormy for Washington and Oregon east.  
12th-15th
Clear skies.  
16th-19th
Pleasant at first, then turning unsettled with showers.  
20th-23rd
Mostly fair skies.  
24th-27th
Gusty winds and rains along Pacific Coast.  
28th-30th
Pleasant weather.  
May 20081st-3rd
Pleasant initially, then unsettled, with showers for Washington and Oregon.  
4th-7th
A spell of tranquil weather is broken by some heavy showers.  
8th-11th
More unsettled conditions.  
12th-15th
Fair, then unsettled weather returns.  
16th-19th
Clearing skies.  
20th-23rd
Turning stormy for Washington and Oregon east.  
24th-27th
Mostly fair.  
28th-31st
A few light showers.  
I've never seen "Unsettled" used so many times in my life.  I guess that means my weather won't be good for quite a while.  Perfect time to plant tomatoes. GRRRR