Well, I'm feeling a bit less panicked about my tomatoes today.  I'm still vacillating over using a SWC or crowding them into my beds, but I thought I would throw out some advice I've received in the last 24 hours.  If you're in a similar situation as I, it may put your mind at ease (a bit).
First off, apparently ALL indeterminate tomatoes are considered vine varieties and all determiniates are bush, despite the fact they all look like bushes to me. hehe.
The other doh moment for me was that the SFG book says to put out tomatoes right after the LSF, but in my area, that's not true.  Sure we are in 8b, but that doesn't mean it gets hot right after the LSF.  We actually plant tomatoes typically around mid-May.  Odd though, my brother planted his cherry tomatoes in early March last year, betting on a mild end of Winter/early Spring, and won big.  I wish I looked at the growth pattern of his tomatoes last year. 
The upside of all that is that I don't have to make the decision on a SWC or bed crowding quite yet (like I thought I did last night).  If I can't plant them for another month, I have time to figure it out.  That said, I have to keep these babies alive for a month.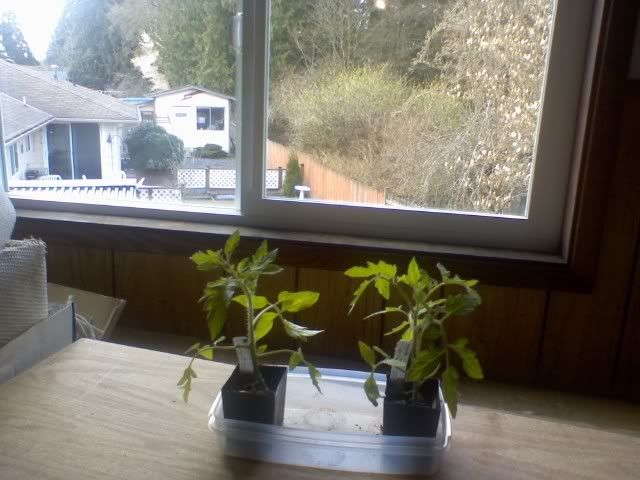 Note that I found out that I should keep them from growing too fast so I should give them full sun but not too much warmth.  Here in my upstairs bedroom, I get full sun (it's directly over the garden) and the temp ranges from 50 to 65 throughout the day.  But they were still a bit cramped in those little pots they sent me.   I was told that if the root ball was growing out the bottom of the little containers, then I should pot them up.  I looked around the house and found an old cottage cheese container and a 1-gallon sherbert ice cream container.  After poking drainage holes in them I filled them with moist potting soil mix (Mel's with potting soil mixed in). 
Then I cut off the bottom leaves and left the side shoot stems to grow into more roots.  Then I covered the bare stems under the dirt and watered.  Now they look like this...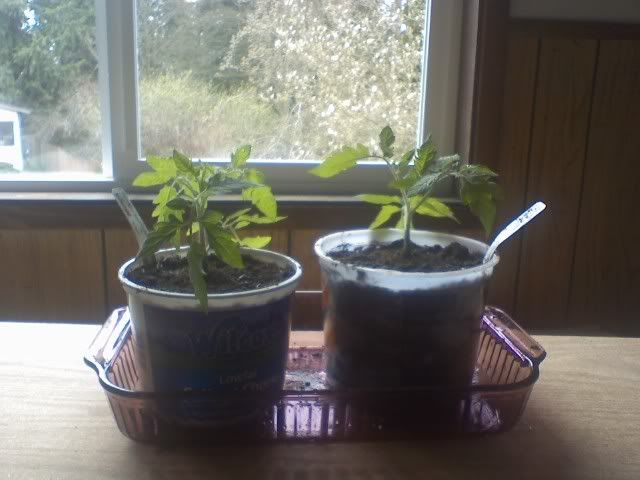 Of course, while I was playing with my son outside I happened to check my shed and found three 1-gallonish professional pots that I could have used.  Next time.  I'll water these twice a week because apparently tomatoes don't like too much water. That's a problem for me because I like to water (makes me think I'm doing something). Good thing they're upstairs, out of sight, out of mind, so-to-speak.
So today, after re-potting my tomatoes, I went out and planted the peas and beans I soaked overnight.  Contrary to what Mel apparently recommends (I didn't read it), my beans didn't swell too much and split in 14 hours.  My eldest loved putting a pea or bean in the holes I made.  He loves gardening with me.  I did 1 SF of beans and covered them with a cold frame just to be safe and to warm the soil a bit to speed germination.  The peas I left uncovered because the coldframe didn't fit well between the trellis.
After that, my son and I poured coffee grounds around all my rhodies and azaleas. He had a blast breaking up the espresso clumps, getting dirty.  My wife wasn't so pleased.  Kids.
Well that was it for my gardening to-do list this weekend. It leaves me enough time to play outside with the kids. Next weekend I think I have to mow.  Most of my neighbors have done so already and it's getting a bit long.  I just hate breaking out the gas beast after a year off.
Lastly, a word on stocking up when garden supplies are on sale.  Having used most of my peat pucks to start my corn, I asked my wife to head to Wally World and pick up a 100 pack for use throughout the season.  By early April, they were sold out, and what little they had were fairly expensive and not worth it.  I'll keep checking, but next year, when they're on sale I'll know what I use and buy up tons. /shrug 
Hope you spent time in your garden this weekend.