Wow, was today fun!  Dirty, but fun. It started out with taking my kids to an exotic animal farm in Arlington (Outback Xmas Tree and Kangaroo Farm).  They've got lemurs, turkeys, emus, lamas, kangaroos, wallabies, peacocks, exotic ducks and other animals.  The kids loved it, and I had fun too.
When I got home, the forecast was just as wrong today as it was yesterday. In other words, it was beautiful. 55 and partly cloudy.  So Logan and I went out and played in the garden (after I cleaned our shoes, they were muddy and manury hehe).  The garden looked good.  Things were growing and leaves were bursting out of previously unknown places.  Amazing.  Just look at how many leaves my radishes now have, and this soon after being covered by 4 inches of snow!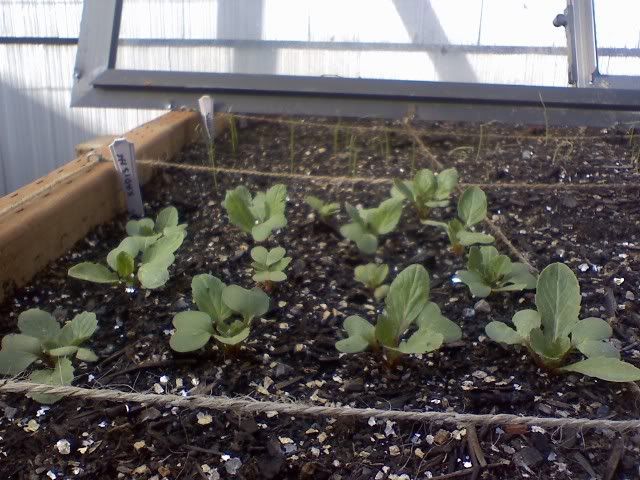 Look at all those leaves!  I just hope they're growing the radishes as well down below. They are root crops after all.  Also note how well the onions behind them are doing?  Funny thing about the onions. I planted some inside, then planted some more inside and transplanted them outside. Finally I direct sowed some outside.  I can't tell any of them apart at this point, and I planted them.  Seriously, I know which ones are new and which are old, but they all look the same far along.  Odd, but ok. Besides, I don't eat them anyway.  *Sinfonian's not worried about retribution, his wife doesn't read his blog*  hehe
Also note the cold frame (read window) propped up against the garage.  I'm hoping that it helps magnify the sun to warm the soil to germinate my precious cuke seeds. I've got tons of Green Slam left, but the Breeze and SMR 58s from Toasty I'm down to my last few seeds. I was hoping to save them for next year, but if these don't germinate, I'll have to learn how to harvest seeds from pickles to grow more next year, hehe.  Can you use pickle seeds to grow cukes? Doubt it.  Let's hope these still germinate.
For grins, I also took a current pic of my peas...
Gotta love all the leaves that are shooting out.  They're not growing taller, but they're very full. I hope that's good.  Also, most of the replants I did a while ago have sprouted, but I still need to fill in a blank or four.  I want to have full coverage for these peas.  Radishes I don't care if I lose some spots to germination, but trellis space is at a premium.  So I'll give them another few days and dig them up and try once again.  I guess that gives me some forced succession planting, but I hadn't planned on it for peas. /shrug  Maybe I should have germinated them inside. I'll try Toasty's coffee filter trick (no, she didn't start it, but she was the last person to suggest it to me, hehe) for any more replants.
After that we ducked under the hoop cover and surveyed my territory.  Things were growing well again, but I decided to thin my lettuce.  But I didn't want to lose those seedlings so I attempted to transplant the little seedlings that were RIGHT next to the other seedlings that were staying.  Let's just say I said what the heck and started moving them. If they survive, no problem. If not, I'll just succession plant more. I have TONS of lettuce seeds.  It was fun but my son wasn't happy that he couldn't help. It was too delicate work for a 4 year old.  He helped water though. Then we played on the swing so he was happy (I weeded a bit). I also saw the my first potato sprout break dirt!  Only one from the Butte bin, but I'm sure others will follow.
Tonight I spent time helping my wife re-image her computer (EEK!) and spent time on the Ft2Garden.com boards.  We've got some new members, one of which posted here a few days ago, Hey Joe! Welcome!  We also had some vibrant discussion about composting. I'm trying desperately to start composting. I had pretty much given up after deciding that I couldn't get the proper composting materials in sufficient quantities to hot compost, and cold composting just took too darn long.  But I do have this great space in my yard for a bin if full sun isn't a prerequisite, and there's still the ton of grass clippings that I send off to Cedar Grove.
So when a co-worker's father suggested I just pile my yard waste in a corner and let it compost over the year, I decided to check it out again.  Too many people told me I should.  After several posts from many helpful folks, Joe suggested I use a cat litter bucket with the lid on for a

bokashi bin-like device.  Apparently it works using a starter (like a sourdough bread mix) of wheat bran and sugar, to break down kitchen scraps into compost under your sink.  The cool part is you can use the dregs from the bottom of the box of mini-wheats as a starter. I can do that, and my brother uses that type of kitty litter, so I may do that.  The pile is still under debate, but it looks like cold composting is the best I can hope for unless I want to buy or manufacture "brown" compost waste to offset mountains of "green" grass clippings.  More to come on this for sure.  Heck, I may just bite the bullet and get a worm bin. But then what would I do with my mountain of grass clippings?
Lastly, I just wanted to say hey to my garden buddies in (on)
Long Island
,
New York
!  I've been emailing a garden buddy for a while to chat about gardening, and then I realized that she lives near
Alberta
, who introduced me to winter sowing.  Pretty cool!
Enjoy your garden and thanks for reading!