Well, today wasn't particulary unlucky, other than work was really icky.  Not much to share today, it's cold and grey again, with highs in the upper 50s.  /sigh  No spring for us this year it seems.  Maybe we'll get a spring come summertime.
My spinach is really growing tall. It's just like Jack and the Beanstalk, only their more like tree trunks than beans.  Look how tall they are.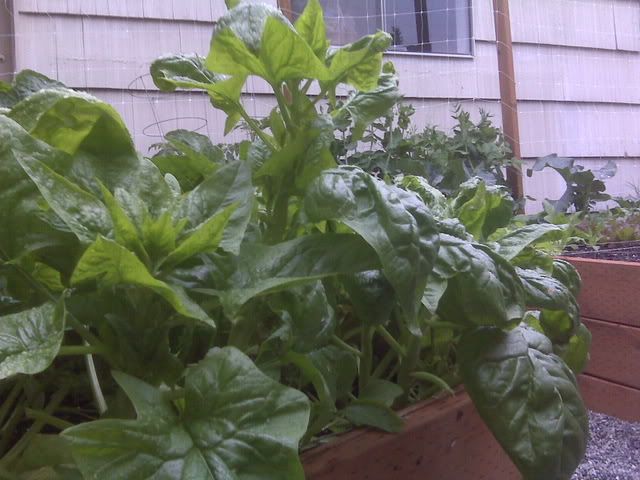 I hope it's normal and ok.  I haven't eaten much of it since then but I will be eating a lot of salads this weekend.
Speaking of beanstalks, here's my Little Pole Bean that Could. I showed it where the trellis was.  Then the next day  it was inches away from it. I figured it would need help but didn't think any more about it.  Today, I came out and look, it came back and curled around the trellis!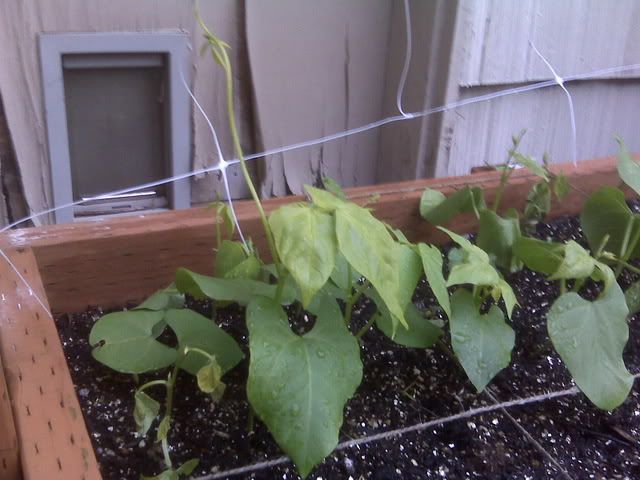 Notice how sickly the one right next to the great one is?  That's the one that had the holes in it. Not many just one or two a leaf, and now look at it. EEK!  However, I think I've done a decent job with pest control. Nothing new to report damage wise, though it appears that the lettuce and spinach leaves touching the ground have wilted and been infected.  I try to pick them when I see them.
Anyway, instead of watching TV, I have gotten hooked on sites like
Path to Freedom
.  It's funny, my brother started out with two 4x8 beds and one 4x4 bed a decade ago, and now that his daughter is 14 he wants to turn his back yard into something like PTF's, so I shared this site and the videos with him, along with
GardenGirl's YouTube site
. Hehe, his dream is to buy 5 acres and farm it, becoming nearly entirely self sufficient.  Kinda like the Dervaes family, though they need to make money doing what they do.  He plans to retire there and live of his state pension and retirement accounts.  I think he'll have a much easier time of it then they do.  They're subsiding on $30,000 a year and I'm sure my brother would make about that much.  Enough to buy the stuff he couldn't produce.
Myself, I just this year started with 130 SF of raised beds, plus turned a flower bed into a flower bed with two high bush blueberries as its centerpiece.  However, my back yard is for my 4 and 2 year old boys.  When they grow up, then it's a different story.  I could get tons of 4x8 beds in my back and side yards.  If PTF can grow 8,000 pounds of food annually on 1/10th an acre, I wonder how much I could grow on 1/4th an acre, or nearly three times the space?
Enjoy your garden, no matter how big or small it is!