Well, I just finished my first salad in several days (had radishes finally and one bite was actually spicy, yay!) and now it's time to hit the post.
The spinach I cut most of it had to be tossed. I'm not winning the war against the leaf miners, but what I ate was tasty.  I also noticed the middle of some of the spinach plants are growing tight bunches of leaves.  Apparently it may mean they're starting to bolt.  Wouldn't surprise me.  They're about 8 inches tall now and have stocky trunks.  I understand it's the length of the daylight that tells them to flower, not heat.  Darn, because we haven't had heat much so I was hoping we could keep them a while.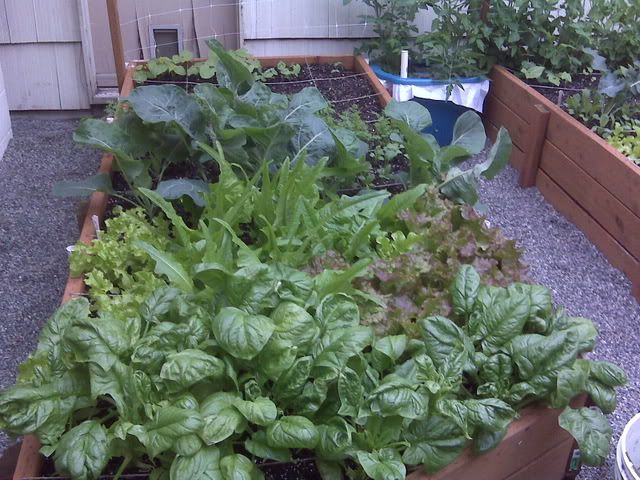 Before I forget, the rain I told you about wasn't 1.5 inches in 12 hours, it was 3 hours!  hehe a bit more impressive.  And all I can say is that my beds drained like a charm!  However, two of my best corn stalks broke off. I'm not sure if it was an animal (they were close together but not right next to each other) or maybe the peat pucks don't hold up to corn.  not sure.  Anyway, I mounded up some dirt and stood them back up. Hopefully they'll survive.  Grrrr.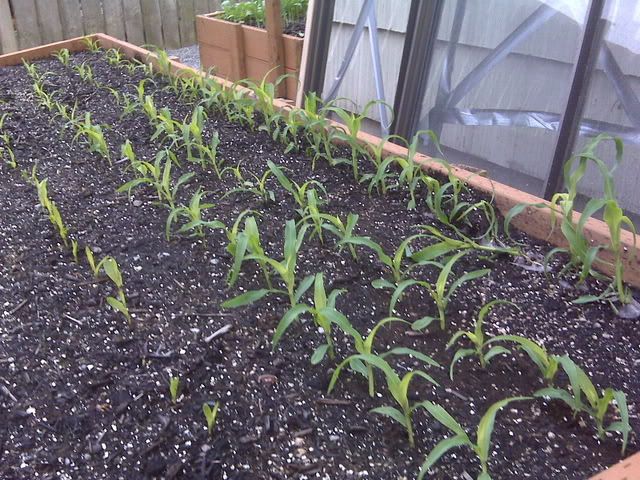 Also while I was out there I remembered that I hadn't posted a pic of my tomatoes in a while. They're growing nicely. No more flowers since the ones I got inside, but they are becoming huge!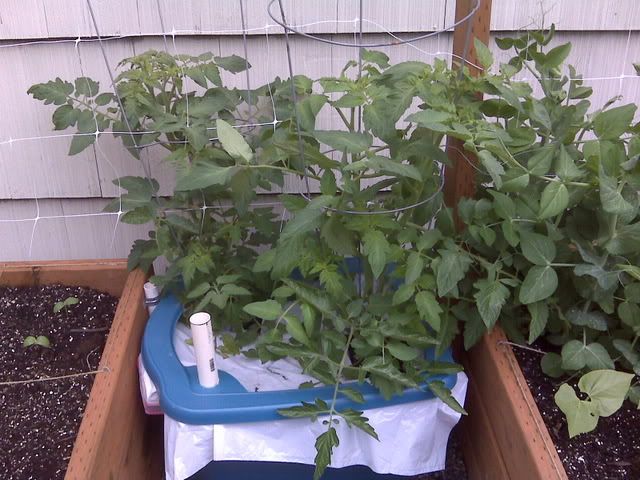 And if you notice, the peas are saying cool a trellis for me to climb and grabing the tomato branches, hehe.  I had to correct some leaning again with the peas, I will definitely get out there and attache the stems to the trellis to keep them from bowing out over the beans so much.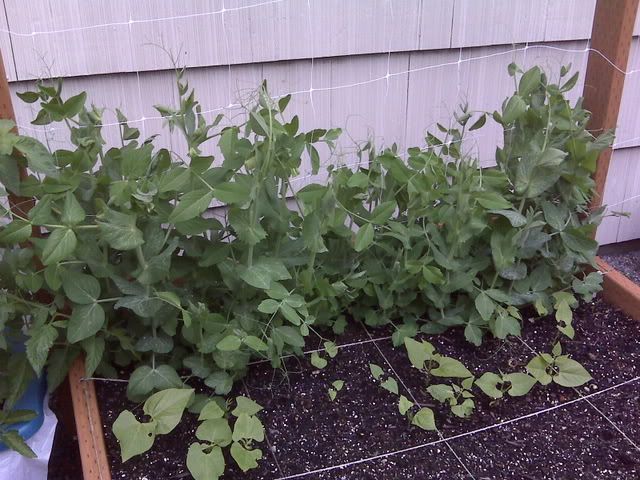 While I'm on the trellis, someone told me to wait patiently for the growth to start on my pole beans, and they were right.  They looked just like those bush beans in the foreground above, until a day or so ago and look now...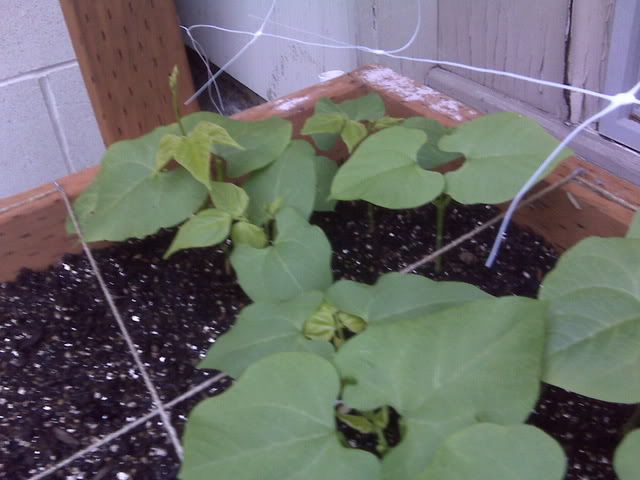 Last pic... I haven't shown off my onions in a while. Actually they're my wife's but she doesn't touch them yet.  She was out there a few days ago collecting me from the garden and commented on how much they'd grown.  What do you think?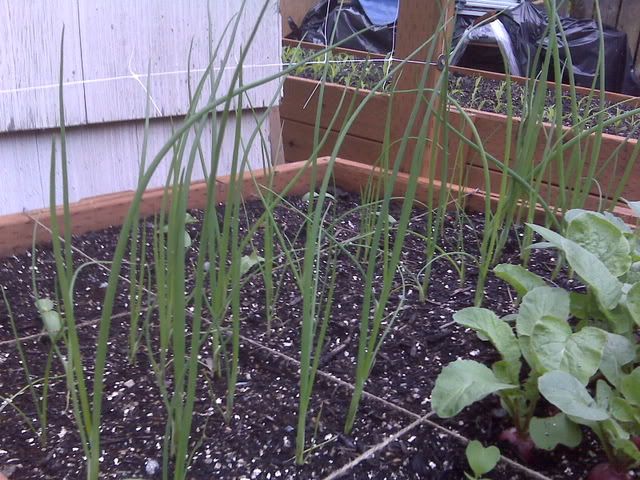 The cool part is that I've kind of been ignoring my garden a bit getting ready for my youngest's birthday party this weekend (and work which is hellish right now) but you wouldn't know it from the pictures of my garden.  It's doing quite well. I just need to plant more stuff, hehe.
I've also got to burry my potatoes,  I'm sure they're a foot tall by now. I haven't had the guts to look since the rain's kept me from picking up my dirt.  What a time to run out of mix.
Lastly I just remembered a story I've been meaning to share.  You may recall I've been using this predator urine product from Haveaheart or whatever, to keep away the raccoons.  Well, I was talking to my neighbor the other day and he commented that he saw a coon family climb his fence and walk through his yard.  They've found a new way out of the wetland! YAY!  Now to keep it up so they make a habit of it, hehe.
Enjoy your garden!