To be sick at work on a beautiful day.  Ah the irony... Alas Ms. Morressette, that's irony, not many more than one of your countless attempts in your songs (though Isn't it Unfortunate doesn't sound very good as a song title).  Another looonnnnggg day of work and no time to do what I wanted in the garden, but I did get to water and snap a picture of my fallen soldiers.  Once these pole beans were proud and tall. Now they're just waiting to be pulled from my garden when I have time to replant them.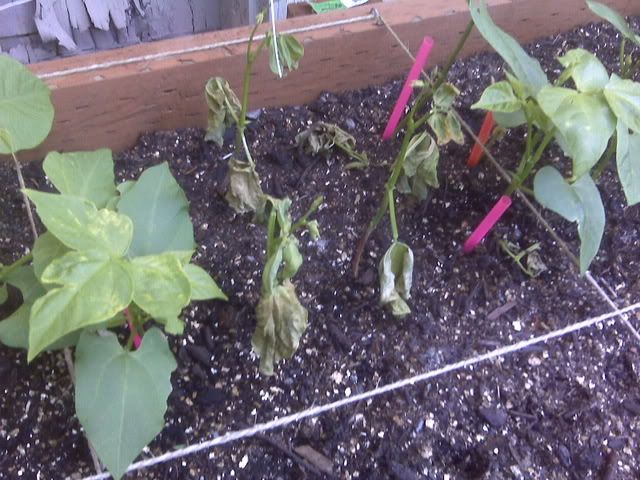 Notice the colorful straws (I've got kids can you tell?) around all the rest of the surviving beans?  Let's hope Alberta's handy advice does the trick.  You can bet as soon as I see green sprout on the replants I'll do the toilet paper roll.
Also I just noticed the tomato leaves on a few of the upper branches have begun curling and turning over.  Is that bad?  I'd like to catch anything bad before what happened to the rest of my poor garden happens to my healthy tomatoes.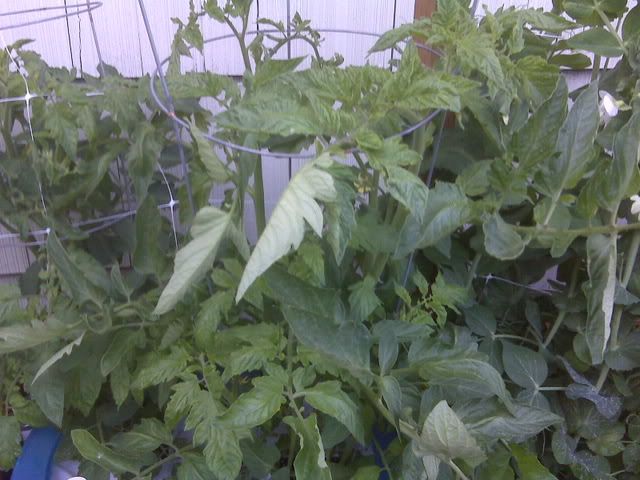 It can't be water I just filled it the other day.  Again it didn't need much to fill.  Did I mention my brother was very impressed by it when he was touring my garden?  Thanks again Judy.  Check her blog to find the SWC instructions page.  Simple to do and a great way to conserve water and space for all sorts of big veggies.
Well time to scarf something down and hit the sack early.  Got a doctor's apt. tomorrow to hopefully get some antibiotics. I haven't had that many sinus infections but I don't soon forget a symptom.
Enjoy your garden!