Well, after several days of cold, grey, rainy weather, I got home and just HAD to go tour the garden.  My mother asked for a lettuce mix to add to her Costco spinach.  Hrumpf!  She's going to get a gallon zip-lock baggie of the best lettuce mix known to man!
While I was out there I pulled out my trusty dusty Blackberry and snapped a few pics for tonight's post.  I know how Judy loves a good picture.
Here's a pic of my peas.  As I said, they LOVE the cool weather. Notice they're keeping pace with the tomatoes next to them?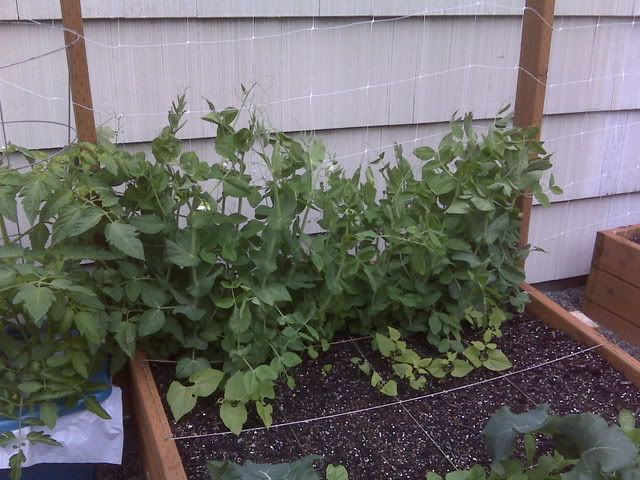 Did you see the little white things on the peas? Yep, they're white flowers.  I think that means I'll get peas from them?!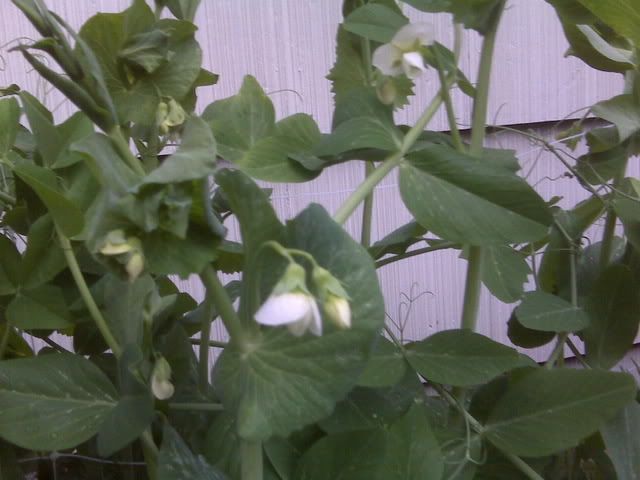 Speaking of tomatoes, look how well they're growing also!  But notice the light green tops?  I wonder if that's just a sign of new growth or is it something bad?  I know they've got water because I filled the reservoir of the SWC a week ago and it wasn't even half empty when I did.  This system uses so little water it's not even funny!
Next up is my monster cauliflower.  This is getting ridiculous. The leaves are shadowing and killing nearby plants. II won't have unproductive leaves killing my carrots and lettuce.  I guess I'm just going to have to put a bungi cord around them to keep them from flopping so much. Frankly the lack of anything resembling a cauliflower head is disconcerting.  If I knew they did this I would have rethought growing them... They're definitely not 1/SF!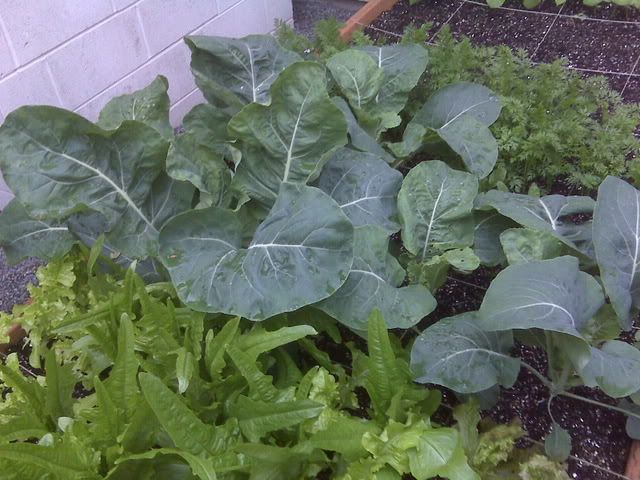 Next, my spinich seems to be reaching to the sky.  The stalks are so tall witht he leaves only coming out the top. Is that normal or sign that it's bolting?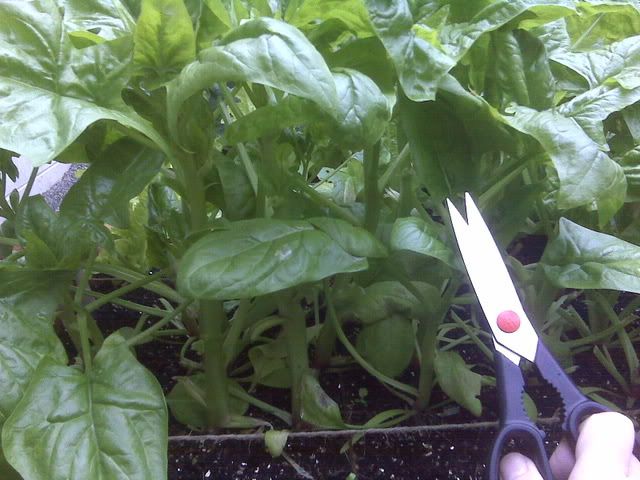 Hehe my corn is also reaching toward the sky, but I think that's right. lol  Now if we'd just get a bit more sun and heat the corn would really take off.  Maybe I can send them to Judy or Chrissy where they've got 90 degree temps.  Do you think I could UPS the bed?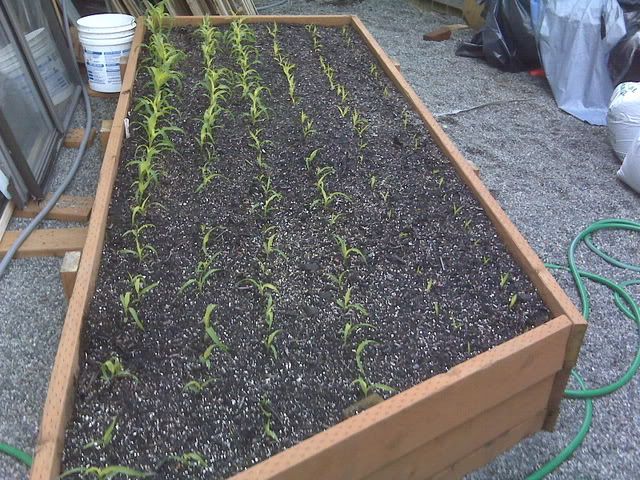 On the way back in I snapped a close-up of my first cuke sprout.  It was one that took months to germinate.  If I'd checked my day's to germination chart, I would have seen that it was too cold to plant them, but three of my six seeds I sowed too early finally germinated.  Not bad for impromtu winter sowing without the plastic to-go containers, hehe.  Oh, sorry for the blur, I think I need to zoom in rather than just get closer.  I'm still learning all that phone can do and what it can't.
Lastly, I felt compelled to share my sorry looking bush beans. Can you believe that each of these squares has had 9 indoor-germinated Jade bush beans planted multiple times?  I'd say it was the cold temps but I germinated them inside and my pole beans had 100% success.  I've gotta call Territorial to complain.  I've gone through almost a full package to get nada...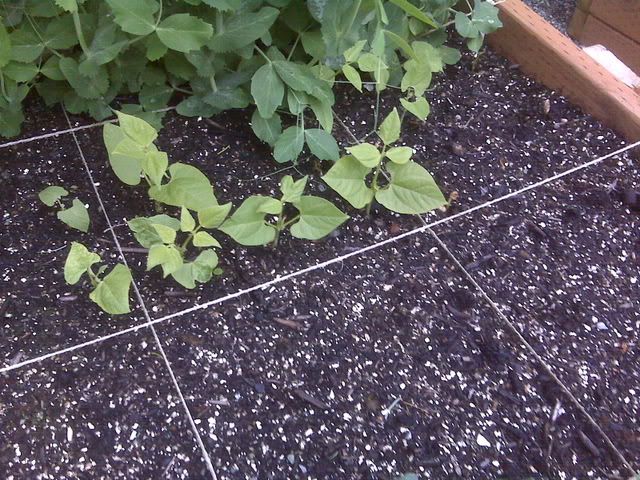 Hmm, maybe I should have ended on a happy note.  Oh yeah, starting tomorrow the weather's supposed to turn to the mid to upper 60s and partly cloudy.  I will finally get to mow! If I can get off work at a reasonable hour. hehe
Enjoy your garden!